If I could leave reality and step onto movie set, there are two places that fascinate me sufficently to take up residence. The first is the 1940's swank single girl apartment of Miss Laura Hunt. A little over the top, perhaps, but right up my ally. I can just imagine the records playing and the cocktails flowing whilst I saunter about in something dreamy going over my next high profile ad campaign. The other dream spot is really just a room, but what a room it is. I'd be perfectly happy to move into the first Mrs. DeWinter's boudior. The enormous sheer curtian divider and floor to ceiling windows are incredible. The wardrobe and the pull out drawers that hold her delicates are every (okay THIS) woman's dream. Let's face it, the ocean view would be sweet too.
So, the first comes with a nut job who coiffes you, styles you and tries to kill you. The second comes with a nut job who isn't interested in brushing YOUR hair and will try to get you to kill yourself. Decisions, decisions...


Here are just a few photos I could find.




About the only thing that tops Laura's place is Waldo's bathroom. Talk about a throne room! Good golly!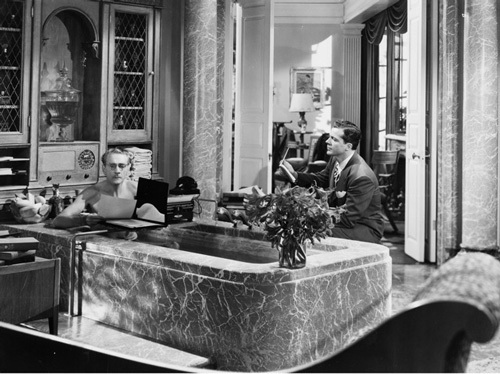 Here's a hint of Rebecca's boudoir...Hiya Danny!

Danny before the divide